Microneedling Hands-On Training- $599.00 

 
TBD
Full Day of Education and Training and Certification!
Click Here to Register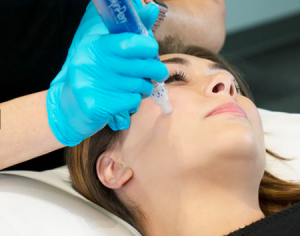 Course Description
Dr Shatkin's Microneedling Course
Get certified on the Skin Pen the only FDA approved microneedling device on the market. Includes full lecture, theory and hands on practical experience. Each attendee will be able to give and receive a treatment.
PRP application will be trained on for those that qualify to offer that treatment.  Typically RNs or aestheticians that work under a doctor and have the ability to draw blood at the office.
Microneedling (Collagen Induction Therapy or CIT) is a minimally invasive rejuvenation procedure. CIT causes controlled micro-injuries that stimulate the body's natural wound healing process. The micro-injuries trigger the release of cytokines and growth factors that lead to remodeling of collagen and elastin. This unique technology helps to improve damaged or aging skin by utilizing the body's healing response.
Microneedling is trending, and for good reason. Everyone is falling in love with the results! With proper training it's, minimally invasive with little to no downtime. Automated micro-needling also creates superficial micro-channels which can be used with topical gels, serums and stem cell technology to help maximize client's results.
The benefits of micro-needling are a reduction in the appearance of fine lines and wrinkles, uneven skin, scars, stretch marks, hyperpigmentation and dark spots. The outcome is beautiful, youthful looking skin.
An overview of science, treatment protocols & documentation, indications/contraindications, treatment plans, & aftercare will be discussed. Attendees will pair up and work on each other during this course.
The objective of this course is to provide attendees with theory and hands-on practical training in microneedling for the aesthetic professional. This course will teach the appropriate protocols for various skin conditions and desired results, along with safety and sanitation procedures, protocol for treatment, and pre/post-treatment care. This course will provide the student confidence, knowledge and technical skills in order to safely treat the client.
Attendees please be prepared and work on each other. Discontinue use of topical Retin A 48 hours prior to class and no chemical peels. Come to class well hydrated.
Key Learning Outcomes and Skills
Theory/Lecture: Technology behind the treatment, Mechanism of Action
Benefits and Treatment
Contraindication/Indications
Review of Skin Anatomy
Client Consideration and Selection
Consultation Guidelines and Consent Forms
Safety, Sanitation & Sterilization
Pretreatment Protocol
Treatment Protocols
Post Treatment Protocol
Recommended Homecare
Maintenance Program
Scheduling, Pricing and Marketing
Equipment & Supplies, Support Materials
Instructor Demonstration on Model
Hands on Practice on each other or model
Optional Starter Equipment
Optional Starter Equipment is available to purchase the day of class. If you wish to inquire about pre-purchasing equipment please call us at 585-754-8434
Location For Class:
Samuel Shatkin Jr.,MD FACS
Aesthetic Associates Centre
Plastic Surgery and Advanced Skin Care
2500 Kensington Avenue 2nd Floor
Amherst, New York 14226
Qualifications
An active Aesthetic, Cosmetology, Nursing or Physician license.

We accept professionals from NY. After registering, email a copy of your certificate or transcript.

Attendees who take this course are responsible for researching state/local/federal licensing laws & regulations surrounding these services & ensuring these services are within the scope of practice prior to registering for the course.  We are not a regulatory agency, and all questions regarding scope of practice must be researched through your governing Board and/or city/state/federal laws. Completing our training course does not allow you license to legally perform the service in your city/state. All tuition is non-refundable, non-transferable. 
Email-info@skinschool.com
Tel. 781-205-9017